Strategic Partnership between BE GROUP and VPBank for Financial Technology Ecosystem
BE GROUP and VPBank officially signed strategic partnership in providing beFinancial services, which is the first step toward developing Be technology ecosystem.
Co-branded credit/debit card issued by BE GROUP and VPBank to provide convenient payment solutions for retail customers and drivers
Loyalty program, Reward points, Cashback
Optimal financial services exclusively for drivers
Effective digital financial solutions for small and medium enterprises
Ho Chi Minh City, May 30, 2019, BE GROUP Joint Stock Company (the owner and developer of Be Ride-hailing App) and Vietnam Prosperity Joint Stock Commercial Bank (VPBank) held the signing ceremony for the strategic partnership to "Enhancing financial technology ecosystem" to serve payment and consumption demand of retail customers and drivers, as well as support business activities of small and medium enterprises (SMEs).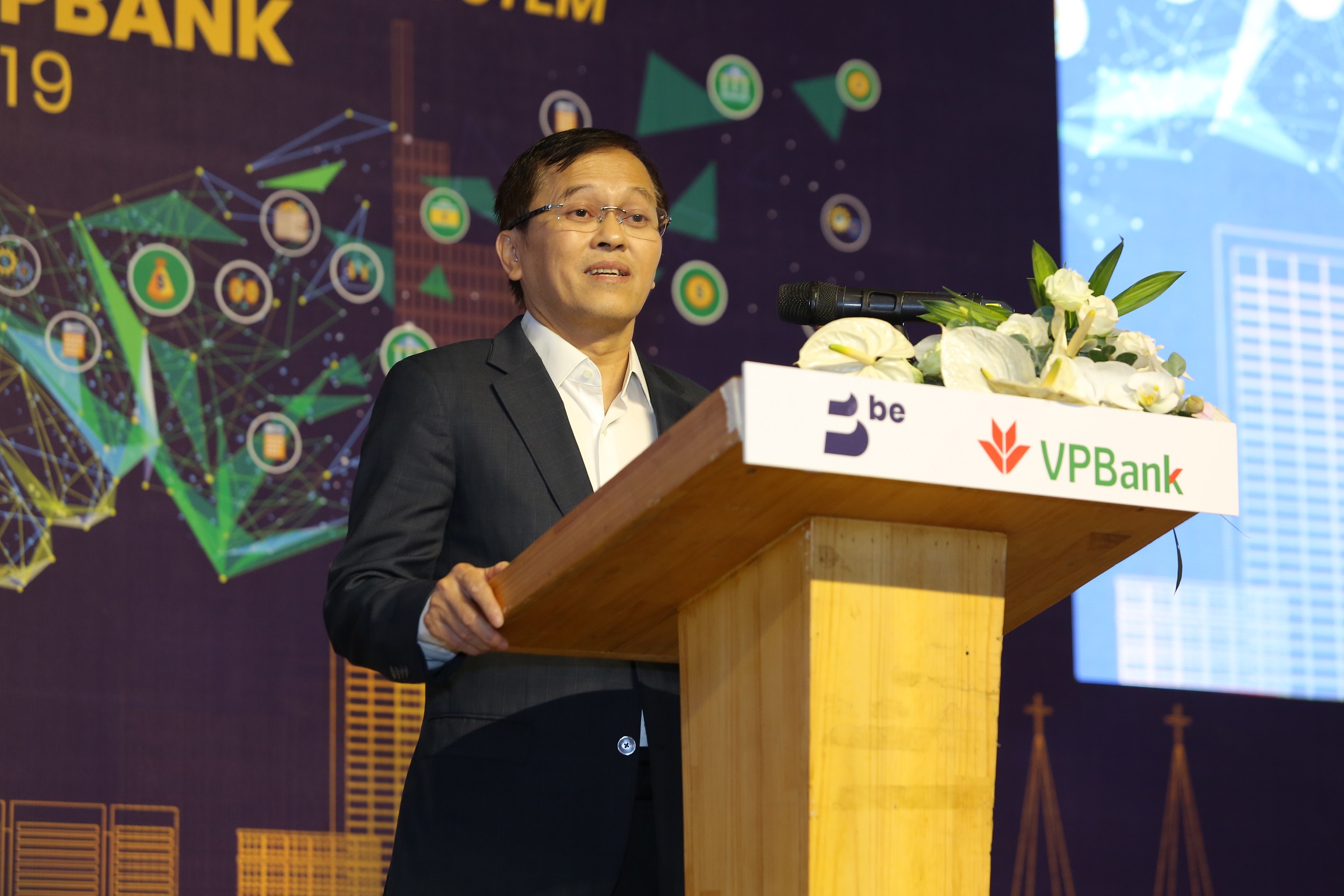 Mr. Nguyen Duc Vinh, CEO of VPBank dilivered the speech at the ceremony  
beFinancial, the new financial service developed by BE GROUP will be one of the best mobile financial service platforms for Vietnamese people to meet the daily needs, as well as to support business activities of SMEs. VPBank's financial services will be integrated into beFinance technology and fintech ecosystem including Payment, Reward & Loyalty, etc.
The partnership with VPBank in the financial sector will be the first step toward the goal of BE GROUP to open technology ecosystem. "Be" will develop into a platform rather than an application, allowing and welcoming many suitable partners to operate. In particular, the company is always ready to jointly develop and support the Vietnamese business community.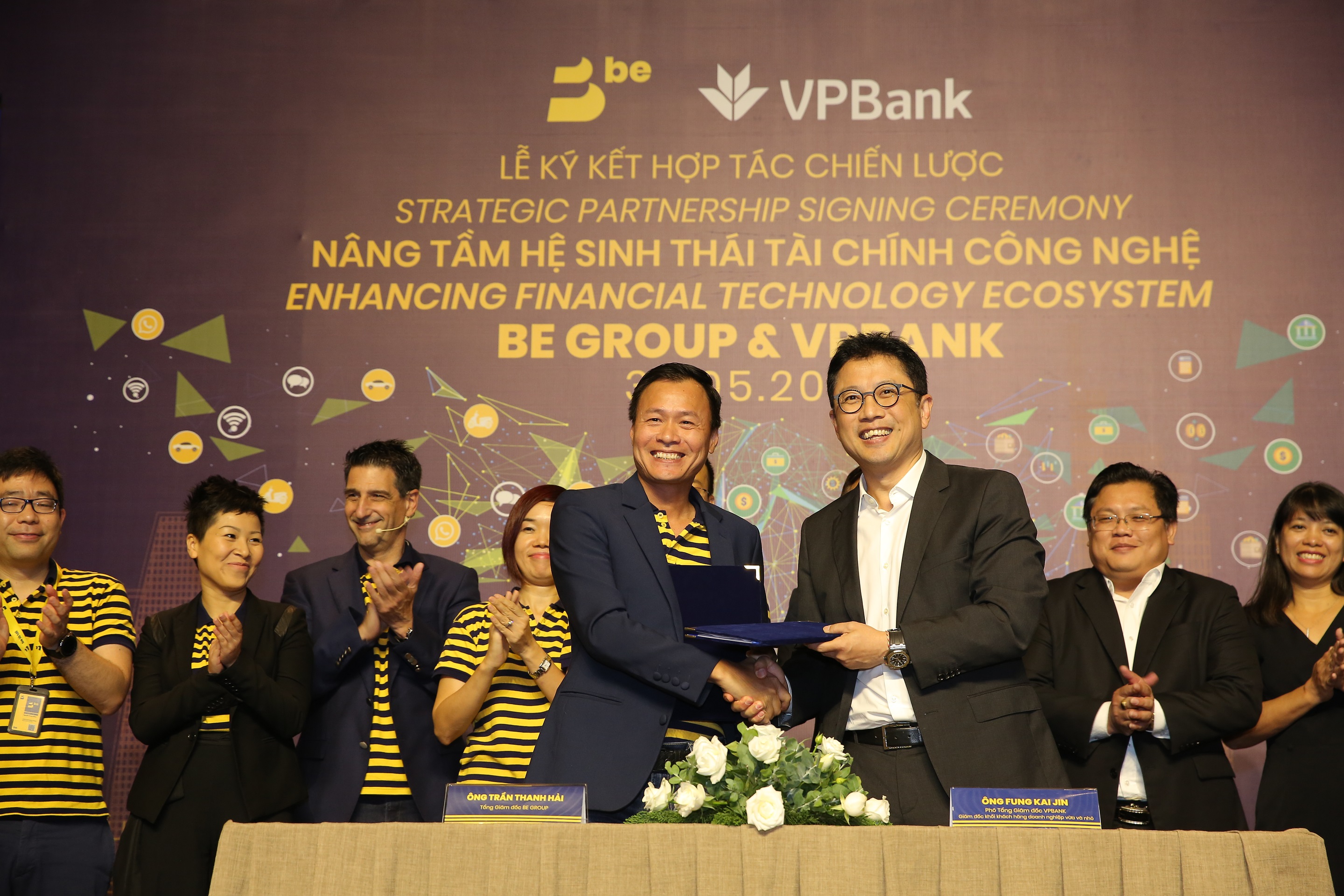 Mr. Fung Kai Jin, Deputy CEO, Head of SME Division of VPBank and Mr. Tran Thanh Hai, CEO of BE GROUP at the ceremony  
According to the cooperation memorandum of the parties, in 2019, BE GROUP and VPBank will cooperate to launch payment and financial services for retail customers, drivers and corporate customers. BE GROUP and VPBank will provide appropriate products to meet the needs of each customer group, as follows:
Retail Customers:
BE GROUP will integrate payment function of VPBank into "be" application with a series of features for users such as payment for trips and transport services of "be", phone top-up, cashless in-store payment. Moreover, BE GROUP and VPBank will issue the co-branded credit/debit card or quick, convenient and safe payment for products and services with many attractive incentives. For loyal customers of "be", they will also receive benefits such as overdraft, credit limit or micro-loan to pay for any "be" service. In particular, when paying for services provided by BE GROUP via this bank card, retail customers also have the opportunity to accumulate bonus points and receive cashback with each transaction and become loyal members with many attractive advantages. With the "loyal" program, customers will enjoy benefits such as discount, membership point redemption for services provided by partners of "be". At the same time, retail customers will enjoy loan benefits with attractive interest rates and quick procedures through BE GROUP - VPBank co-branded cards.
Drivers
This strategic partnership between Be Group and VPBank will provide a clear, secure and transparent financial payment and management system to support and improve the performance of drivers. In addition, within the framework of the agreement, "be" drivers can access VPBank's exclusive banking and financial services to make financial planning in everyday life easier. Especially when the drivers are in need of motorbike or car loans, they will enjoy preferential interest rate and loan term. Thus, the drivers can bring stability to their life for a long time.
SMEs
One of the highlights of this partnership is the optimized financial solution for small and medium enterprises (SMEs). The advanced technology platform of BE GROUP combined with VPBank's payment system will create a professional digital technology ecosystem to optimize the trading process between entities. Instead of having to make a periodic payment to suppliers, SMEs can pay in advance quickly to suppliers with credit line or loans provided by VPBank through beFinancial platform while digitizing processes such as transaction verification, invoice issue and complicated manual paperwork become faster and easier than ever. SMEs can experience automation without changing the current business environment. beFinancial will create payment management portals for each entity to minimize paperwork and improve accuracy and transparency. Thanks to this, businesses can easily manage cash flow conveniently and closely, improving business performance and increasing profits.
 "As a Vietnamese technology company, BE GROUP aspires to bring a coherent solution to simplify the complexities in everyday life and become a bridge between every customer and service provider. After the deployment of transportation services, BE GROUP develops beFinacial to realize its commitments of creating digital financial products. Therefore, the partnership with VPBank - the largest private bank in Vietnam in terms of payment and financial products, is expected to bring a quick, secure and optimal payment solutions for retail and corporate customers, as well as more benefits to the drivers so they can rest assured to concentrate on their work," Mr. Tran Thanh Hai, CEO of BE GROUP said. "On the other hand, the partnership with VPBank in the financial sector is a proof that "be" will share it's ecosystem with all enterprises to bring the best products to customers and optimize their business operations. We believe that an open and symbiotic ecosystem to help each other will attract the participation of enterprises to bring sustainable values to both the enterprises and the economy."
Mr. Nguyen Duc Vinh, CEO of VPBank shared: "The cooperation with Be Group is based on a long process of building and developing digital banking solutions and services, following the direction of creating valuable ecosystems for customers. beFinancial is an comprehensive financial solution for different customers in transport ecosystem, covering the most outstanding payment solutions in the market today. We hope that these pioneering financial solutions will bring outstanding utilities to the businesses and retail banking community in Be Group's ecosystem."