Gifts with value up to VND 1 million with VPBank Online
In order to increase benefits for e-banking service users, VPBank offers rewards up to 1 million to customers using VPBank online services and additional 0.3% on top of listed interest rate at counter to online saving depositors with more than 6 month term.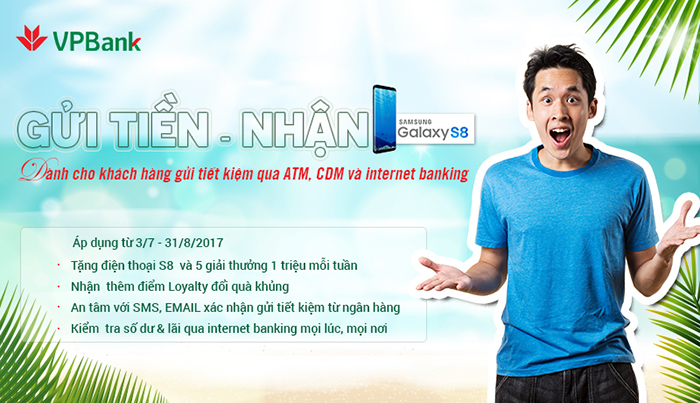 Customers also have opportunities to enjoy other incentives, namely:
-              50.000 VND for the first 4000 customers downloading and activating VPBank Mobile App (*)
-              1.000.000 VND for the first 50 customers depositing online savings for the first time, with minimum value of 1 billion VND per saving book and deposit term of at least 6 months (*)
-              1.000.000 VND for 150 customers depositing additional funds into online savings book with  minimum saving value of VND 3 billion and deposit term of at least 3 months (*)
-              Free VPBank Online  fee in 12 months for newly-registered customers. 
-              The program is deployed from now to December 31st, 2016
(*) Note:
- Customers using Online Savings for the first time can enjoy incentives for new customers or incentives for existing customers if they meet the program conditions. 
- Above mentioned gifts will be converted into iCash Loyalty (VND 1.000  = 1000 points iCash). Customers can use iCash points to redeem for thousands of attractive gifts on VPBank Online (
https://online.vpbank.com.vn
)
Click for more details or contact our hotline at: 1900 54 54 15