VPBank to officially introduce brand new internet banking version
In order to provide best quality service, satisfy the most customers' needs, VPBank has upgraded Internet Banking System (i2b).
Starting from 01/06, with new i2b system, personal customers have the opportunity to use various utilities such as Activate/Lock/Open cards temporarily; Subscribe/Unsubscribe online payments; Register online Internet Banking service (query package); Pay post-paid invoices of electricity, home/mobile phone, Internet, ADSL, airline tickets, etc; Pay personal income tax; Register Mobile Banking/Lock/Unlock service/Provide additional activation code/Terminate Mobile Banking services.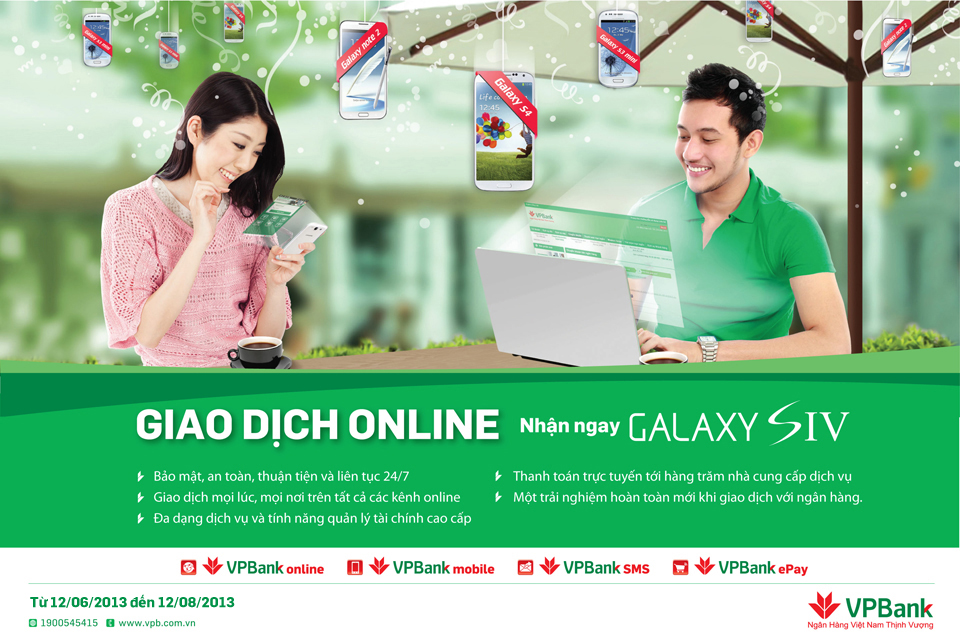 Services provided to corporate customers using VPBank Internet Banking are also diverse, including: Online foreign currency trading, Online money transfer to overseas, Money transfer to make payment of tax obligations quickly and conveniently, shorten the clearance time of import and export goods; Online guarantee of import-export tax with customs authorities; Standing order, Transfer in the future; Bill payment; Incorporate payment request into the accounting system of the business.
Especially, during the i2b upgrade period, and 20th anniversary, VPBank deploys great promotions for personal customers registering i2b services. In details, from 12/6 to 12/08/2013, the first 3,000 new customers can use i2b service for free in the 6 following months as well as receive attractive gifts. Besides, for every financial transaction through i2b accounts, customers receive a transaction code to participate in lucky draw to win a Samsung Galaxy S4 I9500 or Note 2 Titanium Gray or S3 Mini Black. Customers who make payments for postpaid phone bills of Mobiphone, Viettel through i2b will be refunded 5% of the total value of payments. Every week, 10 customers with the highest total VNTopup transaction value and highest postpaid bill payment in the week will receive VND 200,000 into their accounts in the following week. Every month, VPBank will present VND 1,000,000 into accounts to customers with the highest total value of top-up and postpaid bill payment transactions in that month ... For details, please refer to the program conditions HERE.
Thus, apart from the advantages of i2b services such as security, safety, convenience and 24/7 continuity, VPBank personal and corporate customers are also provided with various services to support their demands for payment, personal and corporate financial management. With the upgrade of infrastructure technology, VPBank desires to bring customers products and services with better quality, fast and convenient.
For more information, please contact the Customer Service Center 24/7 at 1900545415 or 04 39288880.