VPBank to cooperate with the Drug Administration of Vietnam
On 15/06/2013, in Hanoi, Vietnam Prosperity Bank (VPBank) and Drug Administration - Ministry of Health officially signed cooperation agreement. According to the agreement, VPBank and Drug Administration agreed to deploy collaboration on 4 areas: account services, business financing, export financing and domestic and international payment.
In details, VPBank will finance supplementary working capital regularly for the pharmaceutical wholesalers, import-export plans, medium and long term capital for machinery purchase investment, plant and fixed assets in accordance with the needs to expand business of the drug dealers. At the same time, VPBank also funds the construction project of BA - BE Bioequivalence Testing Center and offers many incentive programs for this partner. Drug Administration, and its member companies will use VPBank account services including deposit accounts, term savings accounts and other preferential accounts in accordance with the needs of drug dealers; VPBank domestic and international payment services in the forms of over the counter payments, inward/outward account transfer, wire transfer, authorized collection, L/C.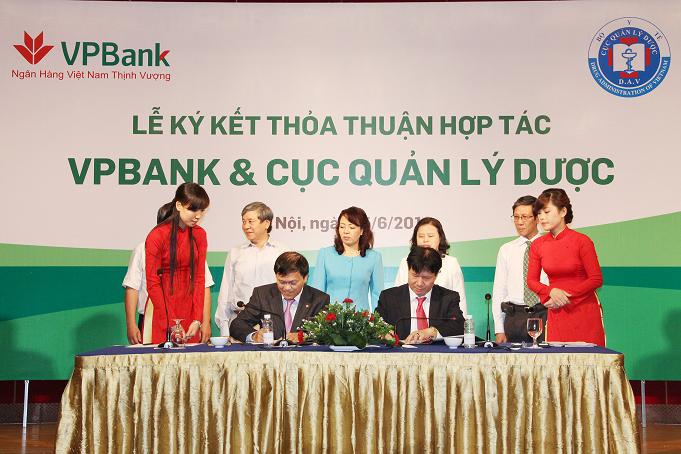 Speaking at the ceremony, VPBank leadership said: "The agreement between VPBank and Drug Administration will help both parties to take advantage of each other's strengths, improve capacity and performance of each party to serve the goals of socio-economic development. VPBank committed to creating all favorable conditions for Drug Administration and its member companies to access and use the services conveniently, quickly and at a preferential tariff."
VPBank, with 20 years of establishment and development, along with efforts to improve service quality, diversification of products and services, has become more intimate with a large number of customers. Up to now, VPBank's total assets have reached over VND 100,000 billion with charter capital of VND 5,770 billion. Entering 2013, VPBank continues product and services innovation as well as high technology investment to gradually become one of top 5 Joint stock Commercial banks in Vietnam.