IFC increases VPBank's financing package to USD 200 million
IFC, a member of the World Bank Group, has recently approved an additional financing package of more than USD 80 million for VPBank, which increases its total financing package to more than USD 200 million. This is the biggest financing package that IFC has offered to a joint-stock commercial bank over the past two years.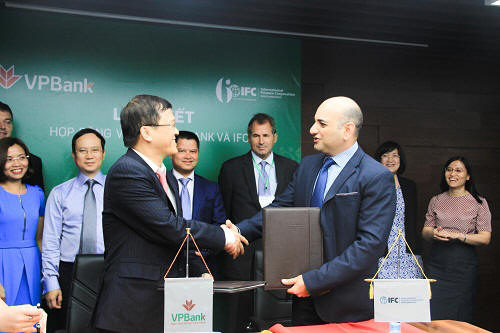 IFC,This financing package comprises a five-year USD 58 million syndication loan and trade guarantee lines of up to USD 25 million. IFC, Cathay United, and ICBC had previously provided VPBank a financing package of USD 125 million in August 2016. The new syndication loan will help VPBank to continue expanding lending to micro, small, and medium enterprises (MSMEs), especially women-owned enterprises, and boost international trade opportunities.
MSMEs, which account for 90% of total Vietnamese enterprises, play an important role in the economy, but many have difficulty accessing sources of finance. The IFC's financing package will therefore be a great support for MSMEs.
The effective use of this financing has already been demonstrated, with the first financing package of USD 25 million having been disbursed to businesses within three months of being received by VPBank. The Bank's credit programs also aim to support projects which commit to positive social impact, such as protecting the environment and promoting social welfare.
"We are glad to continue working with IFC to provide financial support for enterprises. IFC's decision shows its confidence in VPBank's contribution to the development of the Vietnamese business community, especially MSMEs," CEO Nguyen Duc Vinh said.
IFC is the largest global development institution focused on the private sector in emerging markets. As one of the world's most prestigious financial institutions, IFC has strict underwriting criteria based on a comprehensive evaluation of partners' business administration, strategy, financial situation, and socio-environmental commitment. With this new financial commitment to VPBank, IFC has acknowledged VPBank as one of Vietnam's most effective and transparent banks.
According to VPBank's 2016 Consolidated Financial Statements, its total assets reached nearly VND 226 trillion, increasing by 16.5% from VND 194 trillion in 2015; consolidated profit before tax reached VND 4,900 billion; and the profit of the Bank alone was VND 3,400 billion. These business results make VPBank the most effective joint-stock commercial bank over the past year, together with being one of the leading banks in providing credit to MSMEs.
About VPBank
VPBank was founded in 1993, aiming to provide banking products and services to all customers, but with a focus on retail banking and SMEs. As of December 31st, 2016, the Bank's operations cover the entire country, with 214 branches and transaction offices and 64 SME centers. In 2016, VPBank received nine prestigious awards: Best Commercial Bank of the Year, SME Bank of the Year, Best Mobile Banking Vietnam 2016, Bank with Best Service Quality 2016, Best Banking Initiative for Self-Employed Customers 2016, Vietnam Outstanding E-banking Award 2016, Vietnam Outstanding Bank for SMEs 2016, and Vietnam's Credit Card Initiative of the Year. VPBank is the 26th most valuable brand in Vietnam and the seventh most valuable brand in the banking sector.
For further information, please contact us at: 1900 545 415 or 04 3928 8880, or visit our website at 
https://www.vpbank.com.vn