VPBank and Pho Xanh Group signed a strategic partnership agreement
18/11/2021
VPBank and Pho Xanh Group signed a strategic partnership agreement to meet the funding needs of retail borrowers buying real estates distributed by Pho Xanh Group.
Accordingly, VPBank will provide financing packages for Pho Xanh Group' borrowers buying and investing in real estates with outstanding preferential lending rates from time to time and help customers flexibly prove their valid repayment ability. Additionally, the two parties agreed on mutual connection and support to promote the development of products and services with customized offers.
Understanding that difficulty with proof of repayment ability is a bottleneck in assisting customers to access loans, VPBank designed flexible loan products, especially accepting different valid income sources such as salary, income from household businesses, businesses owned by the customers, etc., ensuring the legitimacy according to legal regulations.
In the signing ceremony, a representative of VPBank's leadership said, "In light of the complicated development of the pandemic and customers' certain finance difficulties, VPBank launched many diversified and suitable loan packages with flexible lending rates bringing convenience to borrowers buying or optimizing their investment plans in real estates distributed by Pho Xanh Group. The two parties will fully exploit market potentials and each other's business advantages on the basis of compliance and the capabilities of each party."
"In our opinion, VPBank is among top private JSCBs with sound resources and a dynamic and flexible operating system helping to develop the most suitable financial packages to Pho Xanh Group customers' greatest benefits. We hope this partnership will uplift each party's value, making funding market for real estate investment healthy and reach a new height," said Ms. Nguyen Khanh Huyen, Chairman of Pho Xanh Group.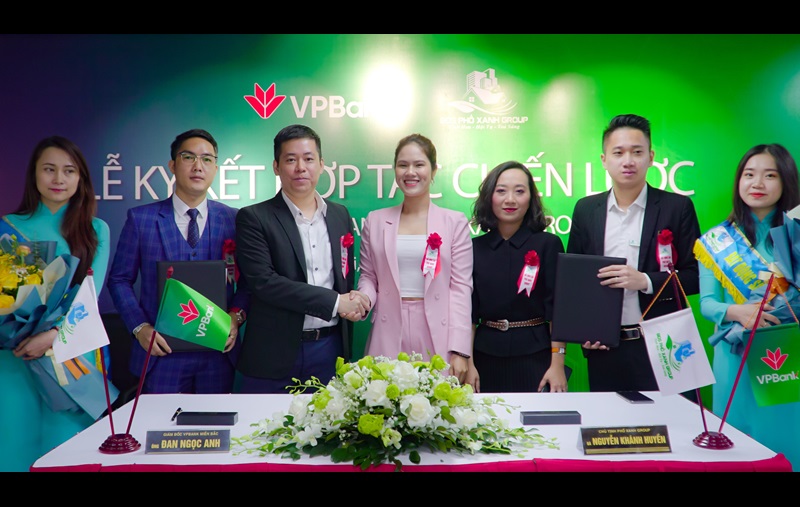 Currently, Pho Xanh Group is one of the largest Northern real estate exchanges with more than 2000 employees, specializing in distributing real estate having ownership certificates including houses in alleys, street facades, hotels, etc. in all the districts of Hanoi, valued from VND 2 billion to VND 1000 billion. The average liquidity for the market is about VND 500 billion (equivalent to about 150-200 transactions/month in different price segments). This co-operation gives borrowers and investors in real estate having ownership certificates more financial advantages including preferential lending rates and other offers aiming at reducing opportunity costs, liquidity risk and increasing future profitability.
At the same time, VPBank is launching a preferential program with interest rates starting from only 5.9% and many other privileges for borrowers buying real estate with ownership certificates. Accordingly, from October 15 through December 31, 2021, customers can choose one of the lending rate packages: fixed lending rate of 5.9% per annum (p.a.) in three months, 7.9% p.a. in six months, and 8.3% p.a. in 12 months, and 8.6% p.a. for 18 months or 8.9% p.a. in 24 months. These are currently very competitive lending rates of this type on the market.
Borrowers can get to 80% LTV, disbursement limit of up to VND 20 billion, and tenor of up to 25 years. Besides, customers are also given a 12-month grace period on principal payments, meaning that in the first year they will need to pay the interest only
For more information, please call 1900 545 415 or (024) 7304 5415 or visit www.vpbank.com.vn
About VPBank: established in 1993, VPBank is currently among the largest private banks in Vietnam with the total asset of more than VND 479 trillion as of the end of 3Q2021. VPBank covers a wide range of business segments including retail, corporate, consumer finance and wealth management ones.
Pho Xanh Group Services and Real Estate Investment Joint Stock Company (Pho Xanh Group): established on April 25, 2021, Pho Xanh Group is a company specializing in distributing real estate having certificates of ownership. With seasoned staff, Pho Xanh Group promises to provide customers with certified information and solutions in a precise, rapid, optimal and professional manner.